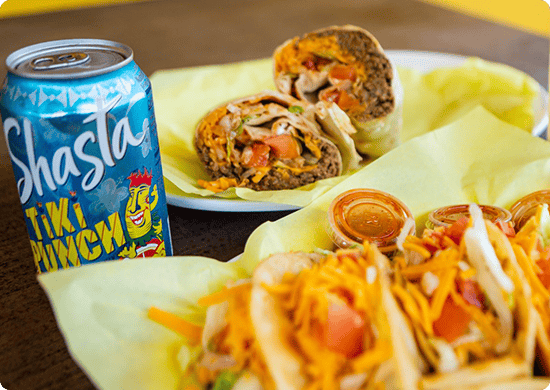 The Original Taco Pete
serving smiles one taco at a time
Welcome to Taco Pete's
Place an online order for your favorite meal!
• S. Central Ave •
Whether you love tacos loaded with cheese or your favorite taco toppings, we are passionate about making them as delicious and crunchy as we can to tickle your taste buds. We simply make the best tacos in the area and are known for our iconic soft shell tacos.

We are currently offering dine-in at our South Central Avenue- the historic location. If you are planning a treat for your family, please make your way here.
• DOWNTOWN L.A. •
At Taco Pete, ensuring quality food and maintaining proper hygiene is our specialty. When we get an order, we use the freshest and premium-quality ingredients to prepare your taco. We make savory and filling tacos that are mouthwatering until the last bite. Our lovingly made tacos are sure to make your day more flavorful.

If you are looking for the tastiest tacos near 38th street, please visit our latest location.
Leave a Review
"I absolutely crave taco petes its so good. Been coming for years. Food is fresh & taste homemade."
"I luv not only thee tacos here but everything on the menu! The fries are always hot and fresh the tamale cup is so Delish & of course the tacos are like no other just to make a few of my favorite items. Yes it can get busy but you can solve that problem but ordering online or calling in your order so you can just pick up and enjoy."
"Was able to come home for the Holidays(from Houston)and had to make a stop at Taco Pete's. Oh, man, these tacos are still the best! Especially good after all that Turkey and ham, a nice change of pace. Ate two right away. /!: saved the third for later. With an ice cold, Black Cherry Shasta Soda!!"
"I absolutely crave taco petes its so good. Been coming for years. Food is fresh & taste homemade."
"I luv not only thee tacos here but everything on the menu! The fries are always hot and fresh the tamale cup is so Delish & of course the tacos are like no other just to make a few of my favorite items. Yes it can get busy but you can solve that problem but ordering online or calling in your order so you can just pick up and enjoy."
"Was able to come home for the Holidays(from Houston)and had to make a stop at Taco Pete's. Oh, man, these tacos are still the best! Especially good after all that Turkey and ham, a nice change of pace. Ate two right away. /!: saved the third for later. With an ice cold, Black Cherry Shasta Soda!!"
"I absolutely crave taco petes its so good. Been coming for years. Food is fresh & taste homemade."